Tradewinds Racing team manager and sponsors highlighted in Virginia Beach Beacon newspaper
: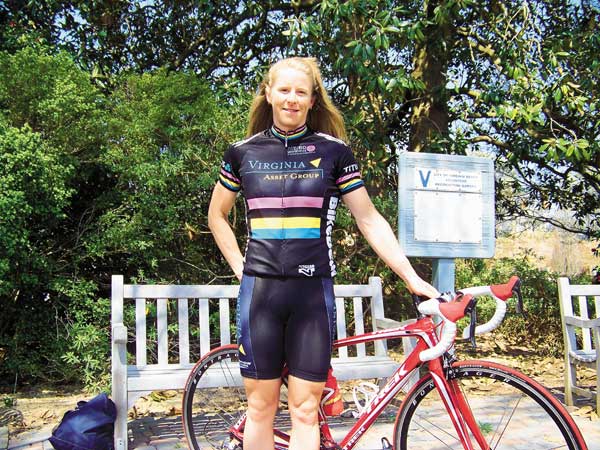 Emily Joyner created Tradewinds Racing Women's Cycling Team last November to support local elite women cyclists. (John Streit | Special to The Virginian-Pilot)
The Virginian-Pilot
© April 20, 2010
By John Streit Correspondent
Her goal: Develop a local women's elite cycling team
As an up-and-coming cyclist based out of Richmond, Emily Joyner looked to her more accomplished teammates as inspiration for her cycling goals.
That exposure paid dividends. She began traveling with her elite team to various races. She was rated as a category 3 cyclist when she joined and sprinted through category 2 before reaching category 1 last year.
But back in Virginia Beach, Joyner saw a great need for women cyclists to receive the same tutoring and encouragement she received in Richmond.
So, Joyner created Tradewinds Racing Women's Cycling Team last November. Her goal is to develop a team of women committed to ascending to elite competitive status.
"This is a real lacking area - there are a lot of men's teams and women's clubs, but no other women's elite teams," said Joyner, who most recently won the street sprint portion of the Rock Hill Omnium in South Carolina. "I wanted to be able to do for women locally what that team in Richmond did for me."
While Joyner said the team accepts novice cyclists, Tradewinds' purpose is to develop and sustain a competition-centered team. That central goal differentiates the team from recreation-based women's cycling clubs and makes it the area's only elite women's cycling team, according to Joyner.
"My goal, eventually, is to pull riders up through a developmental team to an elite team that is competitive on a national level," said Joyner, whose club currently has four other members.
Tradewinds membership includes USA Cycling-certified coaching through Stephen Joyner, Emily Joyner's husband and dedicated cyclist in his own right.
Through title sponsorship with Virginia Asset Group, Tradewinds also assists members with equipment costs and racing fees.
The team gathers for group workouts, rides and community service events.
For example, team member Sharon Oakley, who works at Bike Beat bike shop, is planning a children's bike safety rodeo at the Hilltop location.
"Cycling is kind of like a counter-culture sport - it's kind of hidden in that you don't really know what's going on unless you're into it," Joyner said. "So we just want to stay connected to the community and promote women's cycling through things like cycling safety."